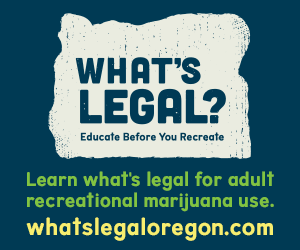 Recreational
MARIJUANA
LEGALIZED IN OREGON
In Oregon, as of July 1, 2015, adults 21 and older can legally possess and use recreational marijuana.
Link to MAPS and Buffer Zone Information

Updated 11/6/18
New Information Added November 9, 2018
Procedure for Submission for a Conditional Use Permit Application by a Marijuana Retailer .. Click here for PDF Info Document
Marijuana Ad Hoc Committee & Meeting Minutes - all
files
MARIJUANA - FAQ:
ALWAYS REMEMBER TO ... Educate Before You Recreate.
Some cities and/or counties within the State of Oregon may have passed additional ordinances regulating marijuana use within their jurisdictions. Make sure you are educated on the ordinances and regulations in your area.
The Oregon Liquor Control Commission has updated the list of Oregon cities and counties which have prohibited the establishment of licensed recreational marijuana producers, processors, wholesalers, and/or retailers. Click on the link below to view the updated list.
For more information, go to www.marijuana.oregon.gov